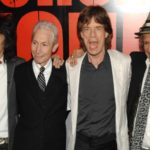 Epix announced on social media that the four-part docuseries My Life as a Rolling Stone, featuring Mick Jagger, Keith Richard, Ronnie Wood and Charlie Watts, will premiere Aug. 7.
The series, which celebrates the British rock legends' 60th anniversary, will look at how the rock band formed in 1962 has maintained its longevity.  Each hour-long episode will focus on one of the band's four main members — Jagger, Richards, Wood and late Watts.  Jagger, 78, an original band member and singer; Richards, 78, a singer, songwriter and guitarist, drummer Watts (who passed away last August at age 80), and Wood, 75, who plays slide guitar.
My Life as a Rolling Stone also will feature Rod Stewart, Tina Turner, Chrissie Hynde, Jon Bon Jovi, Joe Walsh, AC/DC's Brian Johnson, Metallica's Lars Ulrich, Bonnie Raitt, Sheryl Crow, Tom Waits, Dan Aykroyd and more. Actress Sienna Miller narrates the series.
The first episode will profile Jagger and will be available to watch for free via various cable and streaming services. The Richards, Wood and Watts episodes will debut on EPIX on August 14, August 21 and August 28, respectively.
Check out the trailer for My Life as a Rolling Stone – here.
Editorial credit: Everett Collection / Shutterstock.com