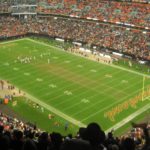 All-Pro running back Kareem Hunt is "holding in" by not participating in team drills during training camp, admit his request that the team either pay him or trade him. Hunt held out of team drills on Friday and Saturday as a way to let Cleveland know he was unhappy with his contract. However according to reports, the Browns have privately denied his request for a trade.
Hunt set to be a free agent after the 2022 season, but the Browns can fine him if he continues to hold out from participating in team drills. The 27-year-old Hunt is in the final year of a two-year, $13.25 million extension and will earn a base salary of $1.35 million in 2022 with a $1.5 million roster bonus. He also has a per-game roster bonus of $200,000 each, which could bring the total amount he earns this season to $3.4 million.
Hunt has yet to perform as he did during his 2017 rookie season with the Chiefs, when he rushed for a league-leading 1,327 yards and eight touchdowns. He has spent the last three seasons with Cleveland, highlighted by an 841-yard, six-touchdown season in 2020. After signing the extension the following offseason, Hunt battled injuries last year, playing in just eight games all season.
Editorial credit: Adam Derewecki / Shutterstock.com