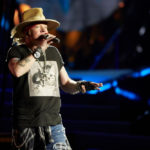 Guns N' Roses is celebrating their 1991 two-album set Use Your Illusion I & II with a commemorative box set featuring dozens of previously unreleased tracks and videos. The Illusion albums, GNR's third and fourth studio releases, dropped simultaneously on Sept. 17, 1991, and debuted in the top two slots on the Billboard 200 album chart. The pair sold nearly 1.5 million copies during their first week on the charts.
The new 97-track collection, titled Guns N' Roses — Use Your Illusion I & II Super Deluxes, will feature 63 previously unreleased songs alongside newly remastered for the first time versions of both albums.
The special edition will be available in a number of configurations, including a Super Deluxe Seven-CD + Blu-ray, a Super Deluxe Twelve-LP + Blu-ray on 180-gram heavy weight audiophile black vinyl; 2-CD Deluxe Editions of Use Your Illusion I & II separately, as well as standard 1-CD and 2-LP versions of Use Your Illusion I and Use Your Illusion II separately.  All the versions will also be available to stream and as digital downloads; head here for information.
Editorial credit: Photography Stock Ruiz / Shutterstock.com