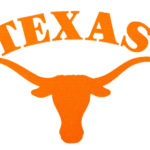 The Texas Longhorns and head coach Rodney Terry agreed on Monday to a five-year deal worth $15.3 million.  The news comes mere hours after a report from ESPN indicated that Terry and the Horns were finalizing the deal, which will keep Terry in Austin through the 2028 season.  A press conference is expected to take place to announce the hiring this week.
Terry is coming off a successful run as the interim head coach with the Longhorns; his season came to an abrupt end after falling 88-81 to the Miami Hurricanes on Sunday night in the Elite Eight. Since taking over as the acting head coach in the wake of the suspension and subsequent firing of Chris Beard, Terry led the Longhorns to a a 22-7 record.  Terry then followed that up with a Big 12 Tournament championship win over Kansas taking the Horns to their first Elite Eight since the 2007-2008 season.
Terry was previously an assistant coach for the program under Rick Barnes before he was the head coach at Fresno State from 2011-12 through 2017-18 and UTEP from 2018-19 through 2020-21. Texas brought him back as associate head coach under Chris Beard and then gave him the interim head coaching position when it fired Beard in January.
Editorial credit: tanuha2001 / Shutterstock.com