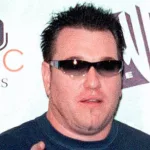 Former Smash Mouth singer Steve Harwell has died at 56. Per The New York Times, Harwell's cause of death was liver failure. Smash Mouth's manager Robert Hayes confirmed to Rolling Stone that Harwell that died at his home in Boise, Idaho, "surrounded by family and friends."  TMZ  had just reported on Sunday that Harwell had entered hospice care "after battling medical complications for years."
Harwell left the band in 2021 to deal with health issues, shortly after a performance in Upstate New York where he was seen slurring his words and appearing disoriented.  The singer struggled with alcohol abuse for years; in 2013, Harwell was diagnosed with cardiomyopathy (a form of heart disease that causes the heart muscle becomes enlarged and weak), an acute neurological condition called Wernicke encephalopathy, and heart failure.
Smash Mouth formed in San Jose, California in 1994, with the quartet earning their first hit three years later in "Walkin' on the Sun," which hit No. 1 on Billboard's US Adult Top 40 and US Alternative Airplay charts. The band released their hit song "All Star" on the soundtrack of the 1999 superhero film, Mystery Men, and the song achieved huge success when it soundtracked key sequences in the 2001 films Shrek and Rat Race, which helped to send the song to No. 4 on the Billboard Hot 100 charts.
The band posted on X (Twitter) on Harwell's death: 'Steve Harwell was a true American Original. A larger than life character who shot up into the sky like a Roman candle. Steve will be remembered for his unwavering focus and impassioned determination to reach the heights of pop stardom. Rest in peace knowing you aimed for the stars, and magically hit your target. Rest easy. '
Editorial credit: Featureflash Photo Agency / Shutterstock.com