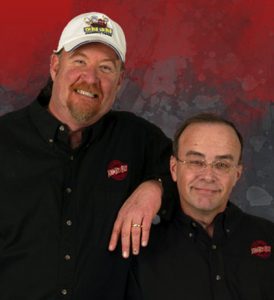 Monday, Tuesday, Wednesday, Thursday, Friday, Saturday -- 06:00 AM - 10:00 AM
Johnny "John Boy" Isley and Billy James were at the forefront of the modern wave of radio syndication when they launched the John Boy & Billy Radio Network in 1993. The success of "The Big Show" has made it a template borrowed from by other syndicated programs for over a decade.
John Boy & Billy have been working together since the Fall of 1980. Paired by legendary radio programmer Bob Kaghan, their morning antics quickly made them one of Charlotte's top morning shows. The duo first began discussing the idea of syndicating their program to other cities in the early 1990s. The John Boy & Billy Radio Network signed on its first affiliate, WROQ-FM in Greenville, SC, in February, 1993.
The show's original base in the Carolinas has expanded into many markets outside the traditional South, from Nebraska and Iowa to Wisconsin, Michigan and Illinois. In 1999, The Big Show began offering live satellite delivery in both Rock and Country formats, a first for the radio industry.
John Boy & Billy have been providing an insider perspective on NASCAR racing since the late 1980s. The Big Show was the first program to bring regular NASCAR coverage to the Rock radio audience. Since most of the sport's top teams are based in the Charlotte area, John Boy & Billy have unparalleled access to the drivers and crews that have become household names since NASCAR's explosion in mass-market popularity. The pair have hosted both a half-hour racing special televised on TNN, and a regular weekly weekend radio program called "John Boy & Billy's Rock & Roll Racing."